from GT (accused of rape) - 'Steve, I don't have words to describe how thankful I am for all your help. You were amazing, thank you so much for all your patience with me. You are such an incredible professional. Thank you so much.' 3.12.2015.  
Plus, later - 'Good Morning Steve, I would like to know if you already have my stuff from the police and how much I have to send you for the post [to send to client]'.
from ND (firearms) -
'Good morning Steve,
Thank you for your letter of the 3rd Dec. I think the proposal that you
take a witness statement from F is far preferable to subjecting him
to the stress of a Police interview.
I  remain concerned however, at the possible consequences on his mental health - effectively being asked to re-live the events of the [date].
I can only rely on your discretion should he become distressed.' 5.12.2015
from DM
'I fear that I also contributed to the confusion this morning. However, to judge by the way that you initially handled my call, if ever I need an advocate to defend me on an alcohol charge, your name will immediately come to mind. 
I shall look forward to my visit next week.
Regards 
D'     5.1.2016
'Dear Steve,
I wanted to drop you a quick line from K and myself to thank you for ALL you did on the 6th January for us at Brighton magistrates.A fulsome letter to follow. Hope January is prosperous so far. With our thanks & best wishes.
K&KT'
19.1.2016
'Thank you Steve for everything you have done for me it means so much to me you are a great solicitor and barrister if I ever know anybody that needs legal help you will be the first person that I call and if I ever need legal help again you will be the first person I call thank you very much it means so much to me my boyfriend also thanks you Steve for saving me from a prison sentence.' BD 18.5.16
Hi Steve,
'Just thought I would drop you an email to say many thanks again for representing me in my case.  So glad that N heard your name mentioned around a dinner meeting about how good you are in your field of works.
I found you an honest and genuine man, who dealt with the case superbly, straight talking and someone to trust in the way you went about your business.
I can't thank you enough, when I was down and out you picked me up and gave me the strength to deal with the horrible issues I was facing. I'm just getting back to normal I think, been hard and slow as it still sticks in the back of your head, and pops up every now and then, the horrible thoughts and situations I went through.
In my eyes you are a credit to your profession, and my family and I thank you ever so much
Regards TQ'
email 10.8.16
email 13 January 2017 from Mrs TL - 'Dear Steve,
Before the verdicts, I would very much like to thank you for all your hard work, patience and kind consideration. To have stepped in at the last moment and done so remarkably well has been of great comfort to both of us. The calm and utmost professional way you have dealt with everything has given us strength and confidence and, whatever the outcome, I feel T could not have had a better legal team. Thank you for believing in us. The last four years have been a nightmare because, as you know, we have had to cope with all the stress of my civil case against [Ts co-defendant] in addition to this.
Also, the strain over the last few days of waiting while the jury are out has been almost intolerable. I have a day off on Monday and will probably come to court even though T has suggested I don't. I so want to support him but from Tuesday it may be difficult. I do not really want to take anymore time off work, even though my manager has been very supportive and I have been able to take annual leave at short notice. There is also the added cost of travel, which I am sure you will appreciate.
I also wrote to Justin a few days ago. T has been so fortunate to have had you both helping him. I hope you have a good weekend. It cannot have been easy for you either, staying in town ,especially on your birthday, when it would have been nicer to have been with your  family. Thank you again.
With kindest regards
Mrs TL'
email from clients father, 6/11/17
Dear Mr Wedd,

I wanted to write to thank you for the very professional way in which you represented my daughter at the weekend. You did a marvellous job and the result achieved was truly excellent.

After we left the police station, I explained to N that she was fortunate to have had such an experienced practitioner allocated to her case. She too sends her thanks.

As well as a first class service, you waited with her for a considerable time until we arrived to collect her. In doing so, you made the whole experience less traumatic for her and ensured that she left custody with her good name intact.

Kindest regards
UI

20.1.21 'Steve Wedd was rude and unhelpful and spoke to me like he was a judge. He would not stay to represent me. He's useless and so is [the firm that instructed him].'
Mr TS.
My response is that
this client had not attended any of his court hearings without being compelled to do so under a warrant from the court;

he was an hour late for his bail on the 20th;

he lied to me about communications which had been sent to him from my professional client;

he telephoned her behind my back to say that she was useless and so was I;

he would not give me clear or any instructions in response to my questions calling for a 'yes' or 'no' answer;

he disliked my advice about his legal position and likely consequences for the day (which turned out to be exactly correct, exactly on the money, and exactly what happened to him when he went into court without me);

the professional relationship between us (which is at the heart of my work for any lay client) broke down, in my view, as a direct result of his manner of speaking to me;

he muddled the message with the messenger;

I made as much allowance as I could for the personal stress that he was under, but I am not prepared to be insulted to my face and behind my back to my professional client.
https://twitter.com/andytgriff/status/1409940086607728646?s=21
but kudos to Mark Hill for his accident reconstruction report and testimony. 
(Declaration of interest - Andy and Eric asked me to look over some chapters in their forthcoming book on Investigative Interviewing, and I was happy to attempt to help.)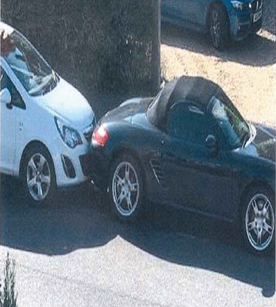 email, 5.7.21
'Hi Steve, 
WOW you really are on the ball, thanks so much. I will absolutely put something together to go onto your website.
email 30.6.21
'Steve,
Just a note to say thank you for what you achieved at Court yesterday - and for all the work preceding. We took E at her word when she was first summonsed and K supported her and N throughout.
It was clear her first solicitor did not  have the Court skills to take this on and you were our first and only choice - and so right it proved.
I know it was only a driving matter to people like us who have seen the stress of murder trials  but it was really important to E and affected her a lot.
You made the justice system work by fighting the Crown to prove its case beyond any doubt  - something you do so well.
Also please see my feedback for you below; 
'From the moment I instructed Steve, he has shown professionalism and put in a huge amount of work to ensure my court date went ahead as planned. On the day of trial, I felt confident with Steve representing me and he knew every point of my case. I couldn't ask for a better solicitor and would recommend him to anyone who needs to feel well represented in court. We did win the case and I was found not guilty, and with Steve's knowledge and expertise, this may not have been the case'
text 2.7.21
'Hi Steve just wanted to say thank you so much for today. Really appreciated. [clients father] L said if you would like to, he would like to take you for lunch at your convenience. 
Many thanks again T L P'
KH - careless driving acquittal, Brighton Magistrates Court July 2018
'Having been warned by someone in the know that ineffectual defence solicitors could be found in abundance, I set about finding, through personal contacts, a law practice that would do an effective job in defending me against a driving charge. My enquiries led to Bristow, Wedd and the services of Steve Wedd himself.
Steve set about my defence with the utmost professionalism using modern technology coupled with forensic skill to reveal the weaknesses in the prosecution case. His cross examination of the main prosecution witness was relentless leading to his exposure as being both ignorant of the Highway Code and unreliable as an individual.
Steves attention to detail and preparation of case papers to assist the Court with its assessment of the allegation was meticulous.
Before the trial had commenced, Steve had requested, successfully, that I be allowed to sit behind him in the court rather than standing in the dock. Having obtained my acquittal, he then obtained my costs from the Court.
Bristow, Wedd is a thoroughly professional practice and is recommended without reservation.'
text message from KU, 3.5.2022 (relating back to work done for this client two years since) - 
'Sorry Steve, didn't mean to end the call on you, my phone died. You're welcome though, I wasn't expecting you to remember who I am but I have to express how thankful I am for you representing me and the fact that it is all finally over after so long is a huge relief.
I'm still processing my emotions and hopefully I'll get my things back soon. We did discuss possible actions to take when the case was over, I'm still thinking about what to do, but honestly thank you for everything, it means everything to me'
'Hi Paula. 

So I take it Steve has no answers as to how he defended N in court? 
You did say you would get back to us within 48 hours but it's now been 5 weeks 2 days 
I find it rude we have all just been ignored including N. You haven't even sorted a video call with him like you said you would to explain what has happened. 
We have no other alternative than to take this matter further.
As well as writing to newspapers & MP's about your services and how someone got sent to prison for 7 and half year on no evidence. 

N and his family feel very very let down and find yourself and Steve have been so unprofessional through the whole of this court case. 

I don't except to hear back from you, this just proves the lack of correspondence from yourselves. 

Regards 
KN'
My reply - 
'Dear K, 
I am sorry that you are unhappy with my work for N. 
I have not received any complaint during my work for him from him, nor since. 
He is my client : you are not. I am told that my instructing solicitor holds his written authority to discuss with you his legal business.
If this is Ns complaint then I await your confirmation that he makes it. 
If this is your complaint then I address it as follows - 
You told my instructing solicitor that my closing speech to the jury was 'amazing'. 
At no time during my work for N did anyone complain. 
Your complaint came after a jury delivered its verdict and after the Judge delivered sentence. There are proper courses of appeal that a person can follow to seek remedy for those outcomes. 
I am sorry that you do not like the outcome of the trial. I think that you are judging the quality of my work by the outcome. I think that that is unfair, but I respect absolutely your wish to make your complaints.
You will recognise that at least 21 other people were involved in the trial process, each one of whom was capable of influencing the verdict and sentence. 
The jury heard all the evidence in the case and decided against us. I am not responsible for the jurys decision.
The Judge heard all the evidence in the case and sentenced N according to the Guidelines. I am not responsible for the Judges decision. 
I take full and complete and absolute responsibility for my work and my preparation and advice and advocacy. None of it was bad. 
N pleaded guilty to robbery and dangerous driving. The only issue in the case under trial was the presence or absence of a firearm. The jury heard evidence from all three participants about that aspect; and it believed the delivery driver MM and disbelieved N. 
Ns blood sample was tested and found to contain Benzoylecgonine (a by-product of cocaine) and Cocaethylene (a by-product of combined cocaine and alcohol). Maybe the jury considered that those drugs affected his judgement or memory - I don't know. 
 
Mr M was also tried; the (same) evidence against and for him was also considered; he was convicted by the jury on the same evidence in the same trial. The jury did not deliver different verdicts for either man. 
I spoke to N during the trial and after the verdict and I spoke to him after the sentence. I gave him legal advice verbally on both occasions then. 
I have sent him my Advice on appeals in writing. I do not know what I could add to my twice delivered verbal advice or my written Advices on appeals by means of a videolink or live meeting. 
N filed an appeal and his grounds of appeal have been rejected by the Single Judge. 
I understand that Mr M has filed an appeal and I understand that his grounds of appeal have been rejected by the Single Judge. 
There was not no evidence : there was evidence from Mr M and from his vehicle. In addition to the evidence presented by the police, there was Ns agreement that he had robbed him and driven dangerously. A persons guilty plea is usually compelling evidence of guilt. There was not no evidence. 
You are absolutely entitled to report this to anyone you wish, with the proviso that you fairly and fully report what was said in the trial. If you slander me in any way by any means in any forum, I will take action on it. Conventional publications like newspapers and broadcast media may well be interested in your complaint, and if they report it, will look to me for comment and response. I have posted your negative comments on my website for the world to see.  
I am sorry that you feel let down. Your complaints must, however, lie elsewhere.